New Orleans, LA – Carver, Darden, Koretzky, Tessier, Finn, Blossman & Areaux LLC is pleased to announce that Haley E. Nix was promoted to Partner and Conor Lutkewitte recently joined the firm as a Partner. Both Haley and Conor are located in the firm's New Orleans office.
Haley Nix was promoted from Associate to Partner at the firm. Haley's practice focuses primarily on commercial litigation in state and federal courts with an emphasis on oil and gas, property, and contractual disputes. She also handles matters involving lender liability, labor and employment, insurance coverage, and complex claims of business misconduct, fraud, trade secrets, and civil RICO liability. Haley has represented individual and corporate clients in a variety of civil practice areas, including banking and finance, energy, real estate, and environmental litigation. Ms. Nix was a Dean's List graduate at Louisiana State University where she received her B.A. in 2010. Haley attended the Paul M. Hebert Law Center at Louisiana State University, where she graduated magna cum laude and earned her J.D. and Diploma in Comparative Law in 2015. She was also awarded the Graduate Certificate in Energy Law and Policy. Haley is admitted to practice in Louisiana.

Conor Lutkewitte joined the firm as a Partner and his practice focuses primarily on commercial litigation, commercial transactions, and bankruptcy. His litigation practice is primarily concerned with the representation of financial institutions in lender liability actions, debt enforcement actions, and businesses in contractual disputes. He represents finance and leasing companies with regard to collateral recovery and lease enforcement and commercial landlords with evictions and other lease issues. Conor's bankruptcy practice includes the representation of creditors in bankruptcy proceedings, as well as defense of lenders in adversary proceedings. In addition, he has extensive experience with construction litigation and the enforcement of privileges and liens under the Louisiana Private and Public Works Acts, and the Miller Act. Conor's transactional practice regularly involves representation of commercial developers, landlords, and businesses. He received his J.D. from Loyola University of New Orleans in 2012, cum laude, and his B.A. in History from Louisiana State University in 2008. He is admitted to practice in Louisiana and Texas.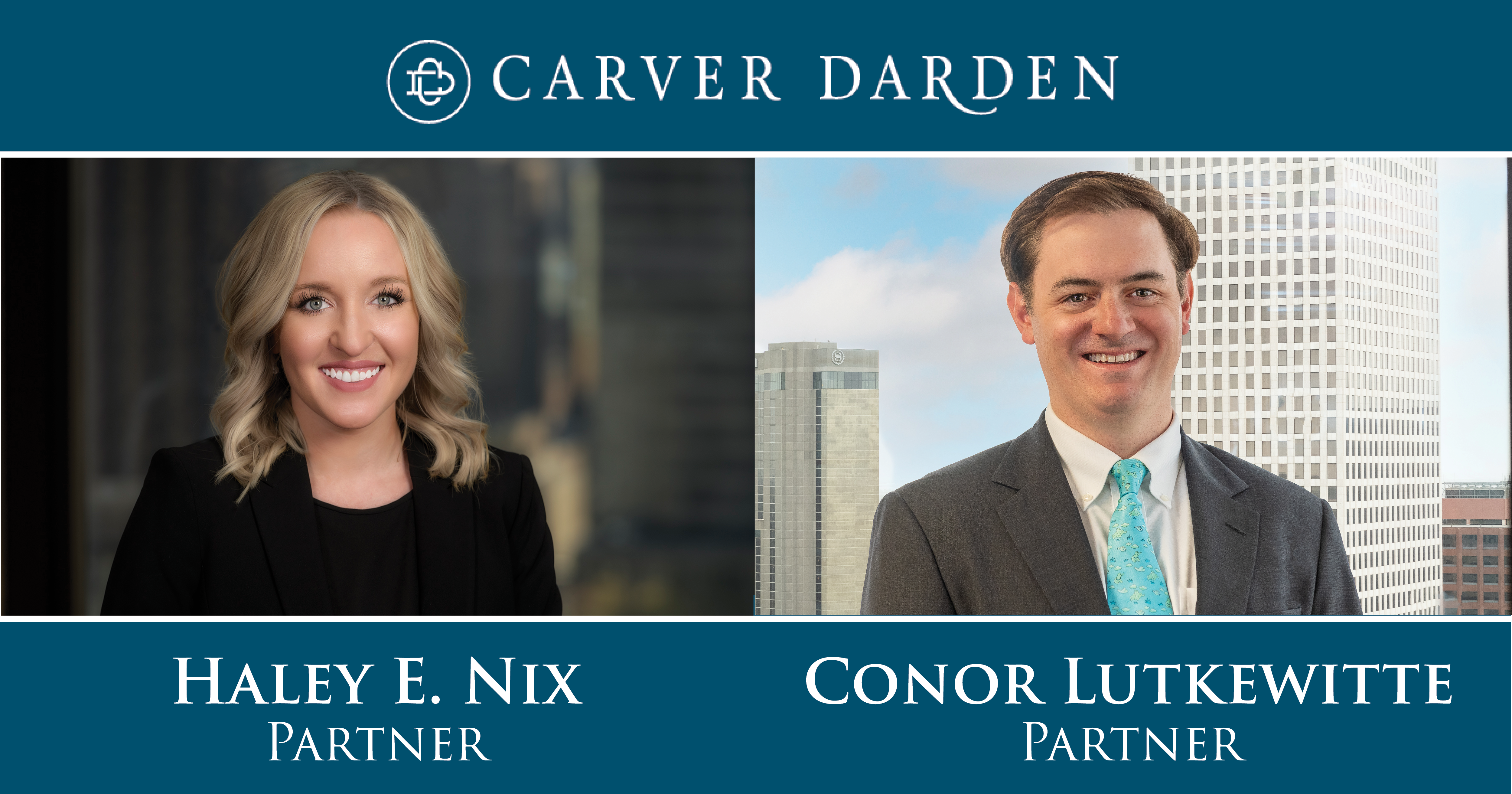 About Carver Darden
Carver, Darden, Koretzky, Tessier, Finn, Blossman & Areaux LLC represents clients throughout the Gulf Coast regions in both litigation and transactional business matters. The firm provides exceptional expertise in many different business categories, such as Banking, Finance, Bankruptcy & Creditors' Rights; Business & Corporate; Commercial Litigation; Construction; Gaming; Insurance Coverage; Intellectual Property; International Business; Labor & Employment; Maritime & Admiralty; Mediation Services; Oil & Gas; Personal Injury; Real Estate; Renewable Energy & Clean Technology; Special Master Services; Tax; and Wills, Trusts & Estate Planning. Carver Darden is committed to providing the highest standards of professionalism, innovative thinking and strong service.