Carver, Darden, Koretzky, Tessier, Finn, Blossman & Areaux LLC is pleased to announce that three attorneys were recognized by New Orleans Magazine's Top Lawyers 2022.
The following attorneys were named in the publication:
Real Estate Law

Banking and Finance Law
Bankruptcy and Creditor/Debtor Rights

Insolvency and Reorganization Law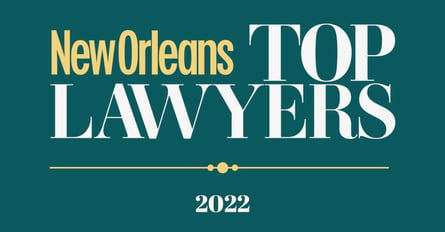 New Orleans Magazine's Top Lawyers list was prepared by Professional Research Services. "The voting was open to all licensed attorneys in New Orleans. They were asked which attorney, other than themselves, they would recommend in the New Orleans area. Each attorney was allowed to recommend up to three colleagues in each given legal specialty. Once the online nominations were complete, each nominee was carefully evaluated on the basis of the survey results, the legitimacy of their license and their current standing with the State Bar Association of Louisiana. Attorneys who received the highest number of votes in each specialty are reflected in the following list."
For more information click here.