New Orleans, LA – Carver, Darden, Koretzky, Tessier, Finn, Blossman & Areaux LLC is pleased to announce that Brandon T. Darden and Peter J. Segrist were promoted to Members of the firm effective January 1, 2023.
Mr. Darden practices primarily in the areas of oil and gas and commercial litigation. Brandon has a wide range of experience in the oil and gas industry and has represented landowners in negotiations and disputes over oil and gas leases, mineral servitude agreements, pipeline rights of way, and other traditional land use agreements. Brandon has also negotiated complex agreements involving emerging energy transactions, such as leases for the construction of a solar energy facility and the storage and sequestration of carbon dioxide. His litigation experience includes general contract disputes, expropriations, disputes over the development of mineral resources, disagreements among and between working interest owners and operators, real estate commission disputes, debt collection actions, and arbitrations. He also provides general business advice, including counseling clients on how to avoid litigation. Finally, Brandon has experience in the employer trade association, construction, heavy-haul transportation, and banking industries. Brandon is licensed to practice law in both Louisiana and Texas and has made numerous appearances in the courts of both jurisdictions.
Mr. Segrist has extensive experience in advising both businesses and individuals in a wide array of commercial transactional and litigation matters. He has represented individual and corporate clients in complex commercial litigation, banking and lender liability cases, bankruptcy proceedings, insurance disputes, mass tort actions, construction disputes, environmental litigation, and fraud actions.
He brings this experience to bear on his transactional practice, where he represents business owners in purchase and sale transactions and contractual negotiations, in addition to providing general business advice. He has extensive experience representing medical, orthodontic, and dental practices in a wide array of litigation and transactional matters, including assisting clients in buying or selling their practices.
Mr. Segrist has been selected as a Super Lawyers Rising Star in 2020, 2021, 2022, and 2023. He attended Loyola University New Orleans College of Law, where he was a William L. Crowe scholar, graduated magna cum laude, and served as Editor-in-Chief of the Loyola Law Review. Following law school, he clerked in the United States District Court for the Western District of Louisiana.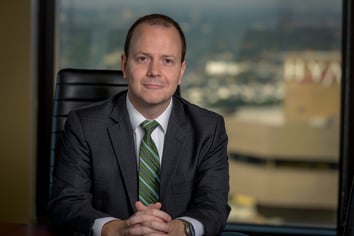 About Carver Darden
Carver, Darden, Koretzky, Tessier, Finn, Blossman & Areaux LLC represents clients throughout the Gulf Coast regions in both litigation and transactional business matters. The firm provides exceptional expertise in many different business categories, such as Banking, Finance, Bankruptcy & Creditors' Rights; Business & Corporate; Commercial Litigation; Construction; Gaming; Insurance Coverage; Intellectual Property; International Business; Labor & Employment; Maritime & Admiralty; Mediation Services; Oil & Gas; Personal Injury; Real Estate; Renewable Energy & Clean Technology; Special Master Services; Tax; and Wills, Trusts & Estate Planning. Carver Darden is committed to providing the highest standards of professionalism, innovative thinking, and strong service.
###