Carver Darden is pleased to announce that
Emily Gummer
has been selected to "Gambit's
40 Under 40" 2020 publication
in recognition of her career and community accomplishments
. Honorees are featured in the August 18-24, 2020, issue of
Gambit
. For more information and a complete list of honorees announced by
Gambit
, the article is available
here
and a digital link to the magazine is available
here
.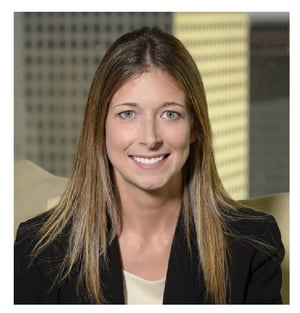 Emily is a member of the firm and a registered patent attorney with the U.S Patent & Trademark office. Her practice focuses on patent litigation specifically with biotechnology, chemical, and petrochemical technology. Emily assists a variety of local and national businesses with their Intellectual Property needs, many of which are in biotechnology.
Emily is working to support and develop New Orleans' burgeoning biotech industry - which, in the wake of COVID, could be more important now than ever. A large portion of her practice is dedicated to supporting higher education and their research and development initiatives. She has successfully prepared and prosecuted patent applications, obtaining foreign and domestic patent protection for her clients while also volunteering her time to local entrepreneur conferences, schools, and organizations.
Emily values community involvement and has previously served as a board member for a local charter school, a mentor in elementary and middle schools, and volunteered as an ambassador for the New Orleans Chamber of Commerce. She currently serves as the Board President for The NOLA Project – an award winning, local ensemble theatre group; is the Development Chair for GiGi's Playhouse – New Orleans (Gigi's Playhouse is an international network of centers that deliver free educational, therapeutic-based and career development programs for individuals with Down syndrome… and Emily is part of the team that is bringing the first GiGi's Playhouse location to Louisiana later this year); and is co-Fundraising Chair for the "Lard and in Charge" BBQ team that competes at the Hogs for the Cause Festival/BBQ competition that is fighting against pediatric brain cancer.